A bold vision for Adelaide's free buses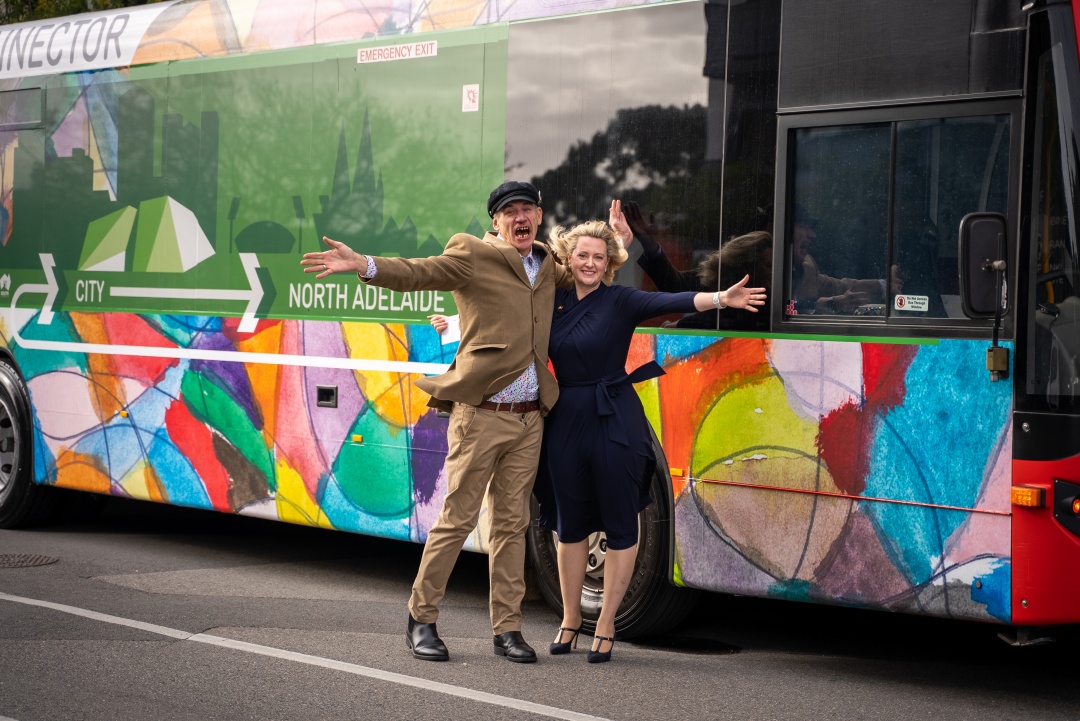 Have you spotted the Free City Connector buses zipping around the Adelaide CBD lately? Here's the heartwarming story behind their colourful new look.
Robert is a talented local artist and a familiar face at Hutt St Centre.
His signature art style is called 'Bumpalong', where he lets the natural rhythms and movements of public transport guide his pen to create representations of the places he has been. He then fills the line art with vivid watercolours.
Now, Robert's earned an incredible opportunity to showcase his talent and celebrate the importance of the Free City Connector buses for the community.
Thanks to a collaboration with Lucy Hood MP, State Member for Adelaide, and the Department for Infrastructure and Transport, Robert's Bumpalong art now adorns the four free metro buses that help people get around the CBD and North Adelaide.
Robert says this project means a lot to him, both artistically and personally:

"The Free City Connector has been my lifeline. It allows me to access social networks, my art group, support services – everything."

"I'm really thrilled to have my artwork displayed in this way. Taking the bus gives you a glimpse into the character of a community, so it was important to me that the designs reflected the vibrancy and spirit of the local area."
Along with this amazing opportunity, Robert's artistic career is flourishing in other unexpected ways.
From 21-28 May, he'll also hold an exhibition at The Olivia Hotel on Hutt Street, where he will generously auction an original painting with proceeds donated to support Hutt St Centre.
As an active participant in Hutt St Centre's Creative Hub, Robert is happy to have found his place in our community.
"It's fabulous that you give us all an opportunity to be creative in this place. The people at Hutt St Centre are amazing – thank you for keeping it all going."
A huge congratulations to Robert for this exciting step in his career. And thank you to everyone who's joined us in cheering him on!
If you'd like to support Robert and other creators at risk of or experiencing homelessness, check out Unity Housing's annual MEGA Garage Sale on Saturday 6 May at 260 South Terrace Adelaide.