Robert's colourful life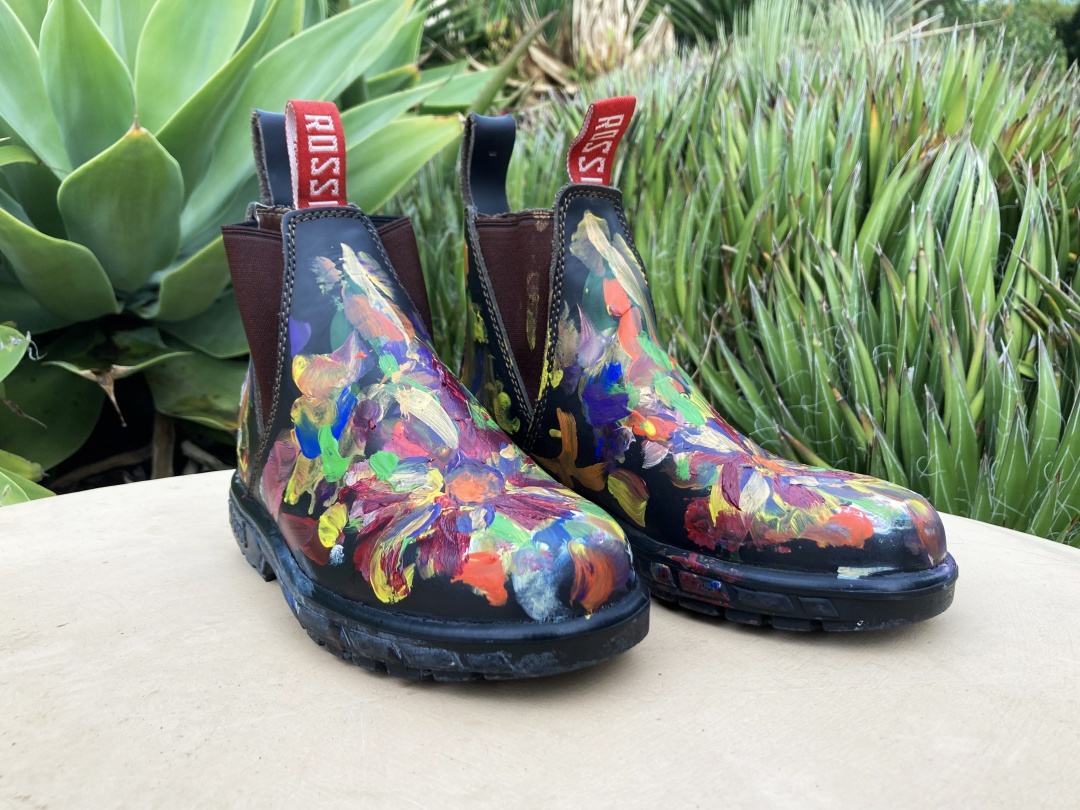 Meet Robert. He's the artist who painted these gorgeous boots to celebrate Hutt St Centre's 2021 Walk a Mile in My Boots Challenge.
Since March this year, Robert has been coming to Hutt St Centre for a hot lunch and to make use of the Creative Hub – a wonderful space where people can connect with their inner artist, made possible thanks to the generous support of our community.
The boots are named 'Vincent Van Gogh's Mexican Holiday' in honour of his favourite artist. Robert says:
"When I saw the Van Gogh Alive exhibition, I was just amazed by the colours. The boots are inspired by those vibrant colours, as well as Van Gogh's long walks through Mexico and his own struggles with being homeless.
Colour has always been a very important part of my life. I've been painting for the past 20 years – I call myself an abstract colourist. My mum owned a craft shop when I was growing up… I wasn't creative then but I've always been fascinated by colour, movement and texture."
It's this love of vibrancy that led Robert to develop his own artistic style called 'Bumpalong' where he lets the natural rhythms and movements of public transport guide his pen to create representations of the places he has been. He later fills the line art with vivid watercolours.
Robert grew up in the country. He loves birds, especially chickens, and is very inspired by nature – themes that feature strongly in all his work, including his artist signature.
He left home at just 15 and moved to Adelaide. He says he struggled to get by as a young man in the city, but found a community at Hutt St Centre where he helped the Sisters prepare meals in the kitchen.
He later returned to his hometown and took over his mum's craft shop until the business eventually closed. Now his travels have brought him back to Adelaide and to the community he first discovered nearly thirty years ago.
"I have experienced homelessness," Robert says. "I've just found some accommodation, which is wonderful, but I'm looking for somewhere more permanent."
"When I came back to Hutt St, it was mainly for meals, but now I come to see friends and spend time painting in the Creative Hub too.

It's fabulous that you give us all an opportunity to be creative in this place. The people at Hutt St Centre are amazing – thank you for keeping it all going."
Thank you to Robert for generously sharing his story and his artistic skills with us in celebration of our supporters and the wonderful impact you have on people's lives.