A Colourful Reminder of Resilience and Hope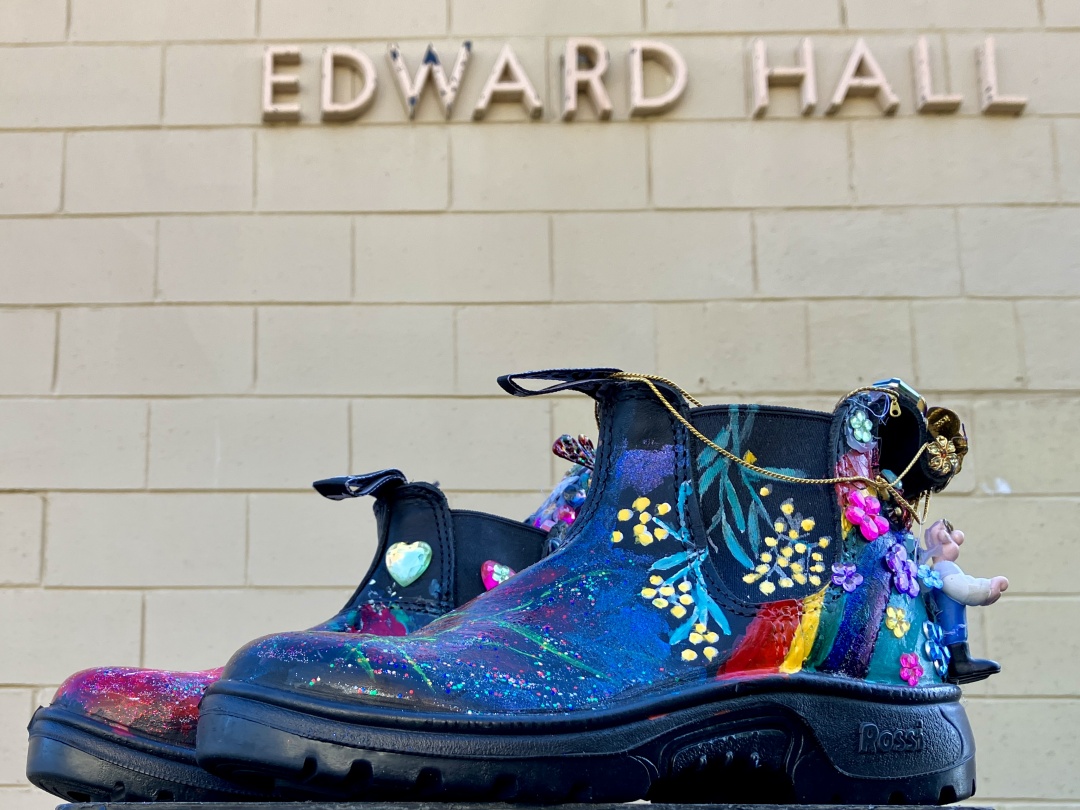 Meet Eugene. He's the artist who painted these colourful boots in celebration of
Hutt St Centre's 2023 Walk a Mile in My Boots challenge.
A frequent visitor at Hutt St Centre's Creative Hub, Eugene also has a passion for local history.
"When I was asked to do the boots this year, I wanted to recognise the Daughters of Charity, who started Hutt St Centre to care for people facing homelessness in Adelaide."

"It's also important for me to celebrate Albert (Bert) Augustine Edwards. When Bert died in 1963, he left 75,000 pounds to Hutt St Centre to help people."
Eugene's mixed media technique gives a bold flair to the boots. He used glittery nail polish as paint and the vintage figurines add a sculptural element – but also tell a deeper story:
"In the boots I've used little figurines like Wallace from Wallace and Gromit to represent Bert."
"Bert was a town councillor, generous philanthropist, and a great inspiration to me and so many others, especially in the gay community."
Eugene's use of symbolism also speaks to the challenges of experiencing homelessness:
"The toes of the boots are painted with redback spiders, representing the unseen dangers people face when they're homeless."
"There are native flowers painted on the boots, the Sturt Desert Pea, to represent the tough resilience it takes to endure homelessness and then when the time is right people can blossom, like a flower, to become who they are really meant to be. That's the story behind the boots."
After the death of his partner, Eugene was at risk of losing his home while facing financial difficulty. With help from Hutt St Centre, Eugene was able to maintain a secure and stable place to call home:
"I had known about Hutt St Centre for many years. Hutt St helped me get through some of the practical difficulties I've faced."
"I want to thank the staff of Hutt St for putting up with my cheeky ways! And I'm thankful to paint and draw in the Creative Hub, because it's helped me through my grief more than anything by embracing my creativity."
"My partner would be proud to know I've painted these special boots, I know that would make him smile. He would be glad that I'm honouring Bert and the sisters whom he loved."
Eugene now enjoys spending time with the LGBTIQ+ group at Hutt St Centre:
"It's a new group and it's working really well. There's a lot of young, gay people experiencing homelessness who are vulnerable and get taken advantage of. And I have experience in supporting transgender people, so I can help support this group."
These opportunities for personal expression in a safe place are vital for helping people like Eugene to feel seen, heard, and cared for. And many of these moments are made possible by Hutt St Centre's generous supporters.
"Thank you to everyone who participated in and donated to Walk a Mile in My Boots. Because Hutt St Centre is worthwhile and it's important to have this place."
Thank you to Eugene for sharing his story and artistic skills with us in celebration of our Walk a Milers and the valuable impact you have on people's lives.