Walk a Mile in My Boots 2023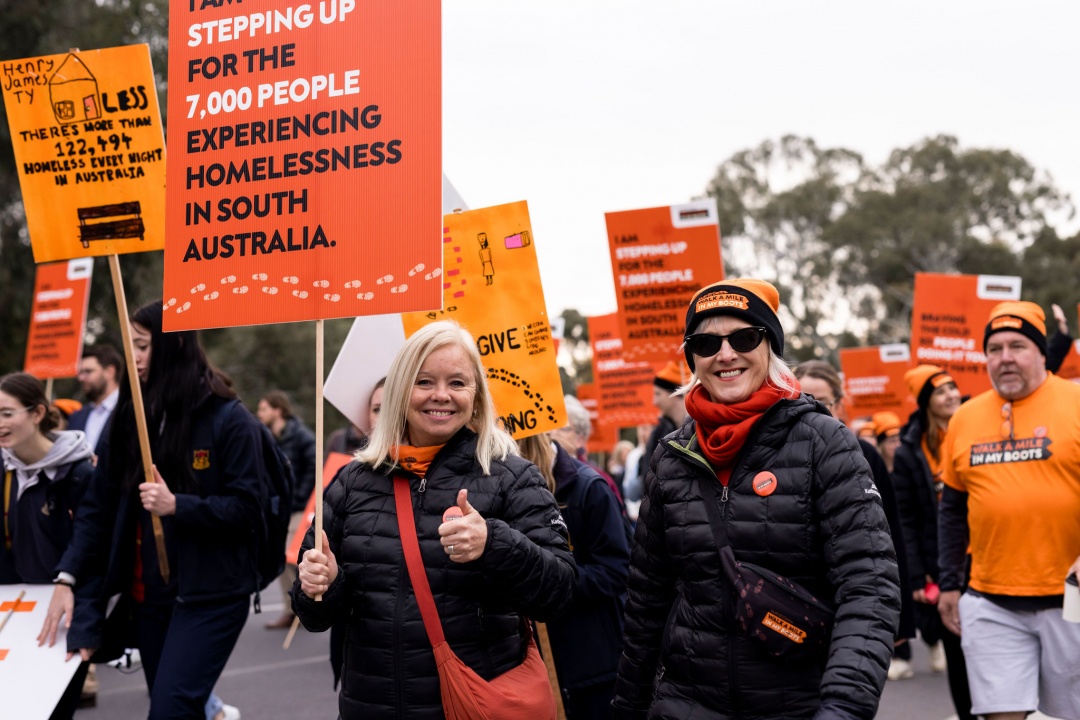 Look at this sea of orange!
Thank you so much to our spectacular Walk a Mile in My Boots community – thousands of you stepped up during Homelessness Week to show your support for more than 7,000 people experiencing homelessness in South Australia.
On Friday 11 August, we welcomed over 1,000 walkers (human and canine alike!) to walk The Final Mile in solidarity with people doing it tough. We're so grateful to everyone who braved the early morning chill to join us.
There are so many people to thank for making this event a resounding success:
Firstly, our passionate Walk a Milers and your generous donors – whether you were able to be there or not, you've made an incredible contribution and helped us raise over $542,299 (so far) to help people on their journey out of homelessness.


Our clients who proudly joined the walk, or waved from the front of Hutt St Centre – especially everyone who shared their stories of homelessness.


Supporting partners, 10 News First Adelaide, Paramount+, Nova 919, and CMI Toyota for their long-standing support of #WalkAMile and our work helping people rebuild their lives.


Event MCs Philip Wells and Josh Webster, and Cliffy Wilson of Kuma Kaaru for providing a beautiful Welcome to Country.


Rapid Relief Team AU who provided a free hot breakfast for all our walkers and volunteers at the Finish Line, and Mrs Sippy Mobile Coffee and Bar and Deja Brew Specialty Coffee for energising our walkers with fresh coffee.


Over 100 volunteers who donned orange high-vis and tackled tasks ranging from making tea and coffee to course marshaling, to hosting and thanking our fabulous Diamond Boots Club members, and, of course, set up and pack down.


City of Adelaide and SAPOL who worked with us to plan the event and on the day South Australia Police who ensured the safe passage of walkers through the streets.


Our event partners and suppliers including (but not limited to) ForMile Events, SEM Group of Companies, 4 Seasons Traffic Management, Kennards Hire, Greatrex Marketing, AV Style, St John Ambulance | SA, Unley Concert Band, Veolia Australia & New Zealand, Splashdown, Apollo Lighting Service, SA Metropolitan Fire Service Salisbury, Adelaide City FC, St Aloysius College Adelaide, Olympic Party Hire, Donor Republic and Hughes PR.


And our creative partners, Frankie The Creative, Colourblind.Digital, and Sebastian from Clever Snout Creative, for capturing the vibrant spirit of this event.
While challenge week might be over, donations remain open until the end of September so you can still get in any last-minute fundraising.
Every mile you walk and every dollar you raise is making a life-changing difference for people doing it tough in South Australia.
As always, thank you for reminding people experiencing homelessness that they're not alone.