Clara's heart of gold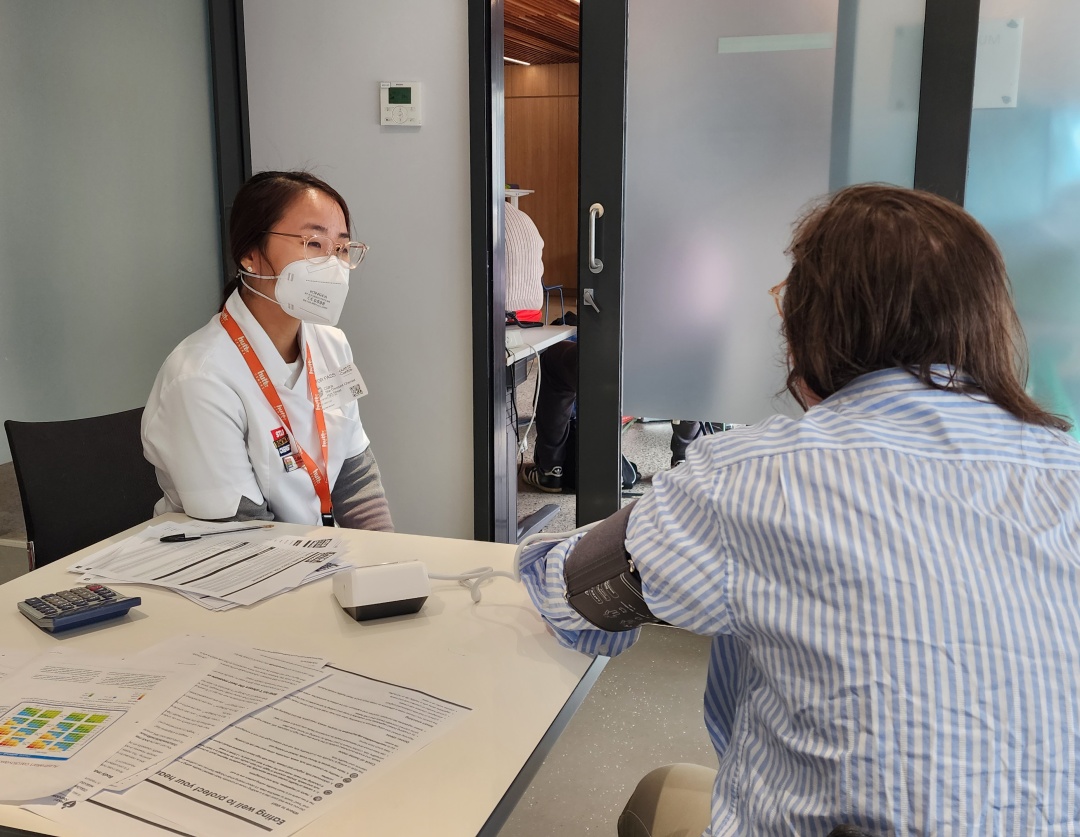 Meet Clara. As the owner and Managing Pharmacist at Star Discount Chemist on Hutt Street, Clara generously gave her time this morning to run a healthy heart clinic here at Hutt St Centre.
She offered free heart health checks to dozens of people at risk of or experiencing homelessness, and gave advice on how they can best maintain and improve their cardiovascular health.
Clara said it's a privilege to be able to visit the Centre and lend a hand.
"My job as a pharmacist is always rewarding, but to be able to give back to people in need is the best feeling. I've had some great conversations with people visiting Hutt St today and I hope they got some useful advice out of it too."
Hutt St Centre client, Jen*, who's currently sleeping rough, popped in for a blood pressure test and to chat with Clara about her risk factors for cardiovascular disease (CVD).
She's only in her early 30s, but Jen has a family history of heart disease and has experienced stress-related tachycardia following a brutal assault while she was sleeping rough. To complicate matters, she also has diabetes which adds to her CVD risk.
"Heart issues run in my family," Jen says.
"I try to keep myself healthy with regular exercise, good food and avoiding drugs and alcohol. The food here at Hutt St is really good – I can always get something healthy and filling to keep me going."

"My main challenge is that I'm sleeping in my car, which means I have to move around a lot to stay safe. But with the price of petrol, it's getting harder every day."
Jen's story is a prime example of why people experiencing homelessness are at much greater risk of developing serious health issues.
In fact, 88% of people who walk through our doors report having a health problem.
A 2020 study from University College London found people experiencing homelessness are at three-times greater risk of cardiovascular disease and are more likely to suffer from heart-related mortality.
Factors like chronic stress or injury, lack of access to regular healthcare, and an inadequate diet only compound this risk.
Thankfully, with your support, Hutt St Centre is here to help people like Jen address many of these issues and begin to change their circumstances for good.
A huge thank you to Clara and our friends at Star Discount Chemist Hutt Street for helping people doing it tough to focus on their health and wellbeing.
And thank you to our generous supporters for keeping our doors open to people when they need us most!
*This name has been changed to maintain the privacy of the person who generously shared their story. Thank you for understanding.