Meet our Healthcare Hero, RDNS Nurse Jacqui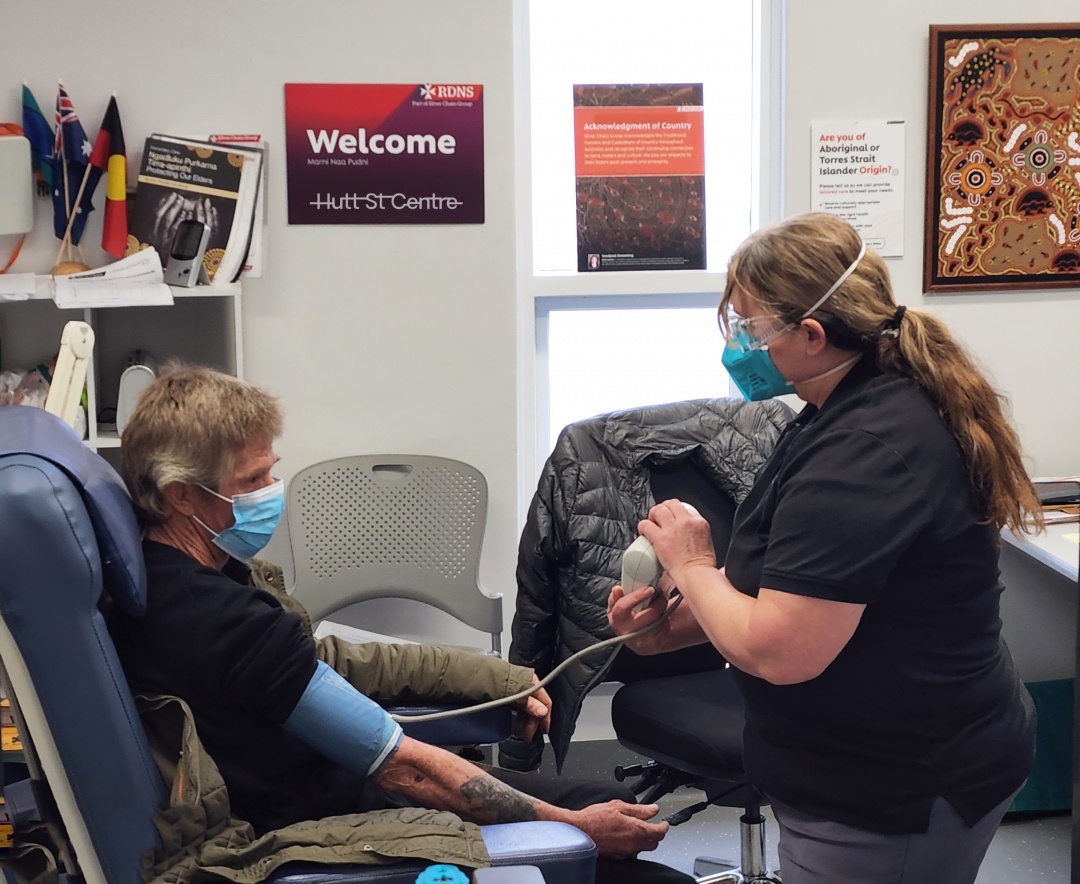 For more than 6,000 people in South Australia, homelessness is a daily reality leading to complex health issues that require expert care outside the walls of the hospital system.
RDNS Silverchain nurse, Jacqui, shares her insights on her role in supporting people experiencing homelessness to access health care.
Jacqui works at the RDNS Silverchain's Homeless Nursing Clinic here at Hutt St Centre. More than 30 years ago the service started in one small room, but in the last year supported more than 1,400 people at risk of or experiencing homelessness to access to primary health care.
In partnership with a visiting GP, the clinic provides support for wound care, medication, financial assistance to fill prescriptions, diabetes, mental health and referrals to allied health specialists.
Since joining RDNS in 1990, Jacqui has spent more than half of her career as a Clinical Nurse in the RDNS Homeless Program. Jacqui says working with people facing homelessness, particularly rough sleepers, is challenging, but the small wins make it worthwhile.
"I work with people at their most vulnerable and whose experience of homelessness is complex and has many contributing factors. The work is very grounding, and you learn a lot," Jacqui said.
"You build genuine relationships with the people you provide healthcare to, and together with Hutt St, we can help people regain their independence. It's the best gift you can give someone who's doing it pretty tough."
Jacqui says her clients have specific needs which are best treated and managed in a familiar setting like Hutt St Centre.
"Many homeless people don't have a GP. They're surviving from one day to the next, so it's hard to focus on health when you're cold, hungry, and anxious.

"Their experience of homelessness itself can have long-lasting impacts, including on their mental health, and they are vulnerable to other types of harm and disadvantage."
Jacqui says a significant part of her work is about relationships and building trust.
"When I see a homeless person, too often, they've fallen through the cracks of other health services that aren't always equipped or resourced to deal with the complexities they face."
"A simple request for Panadol for a headache can reveal much more of their situation once you get to know someone. As you slowly peel back the layers, little wins become big wins. I value the trust we build together," Jacqui said.
"We see people from all walks of life; there are many different challenges in our community that contribute to homelessness.
"Recently, the impact of COVID-19, the cost of living and unaffordable housing is driving more people into homelessness. Some may have a roof over their head but no money. Some have nowhere to go and are sleeping rough on the streets."
Jacqui says it's embedded in the DNA of RDNS Silverchain and Hutt St Centre to support the most vulnerable and disadvantaged people in South Australia.
"The Hutt St team are an amazing, passionate group of people who work hard to support people to move beyond their experience of homelessness. Providing access to primary health care is so worthwhile because it creates hope."
We're so grateful to Jacqui and the team at RDNS Silverchain for working with us to ensure people experiencing homelessness can access professional healthcare in a safe and welcoming environment.
A huge thank you also to our generous supporters – your kindness keeps our doors open when people need us most.
This article was originally published by RDNS Silverchain on 4 August 2022.