Step up for the 2022 Walk a Mile in My Boots Challenge!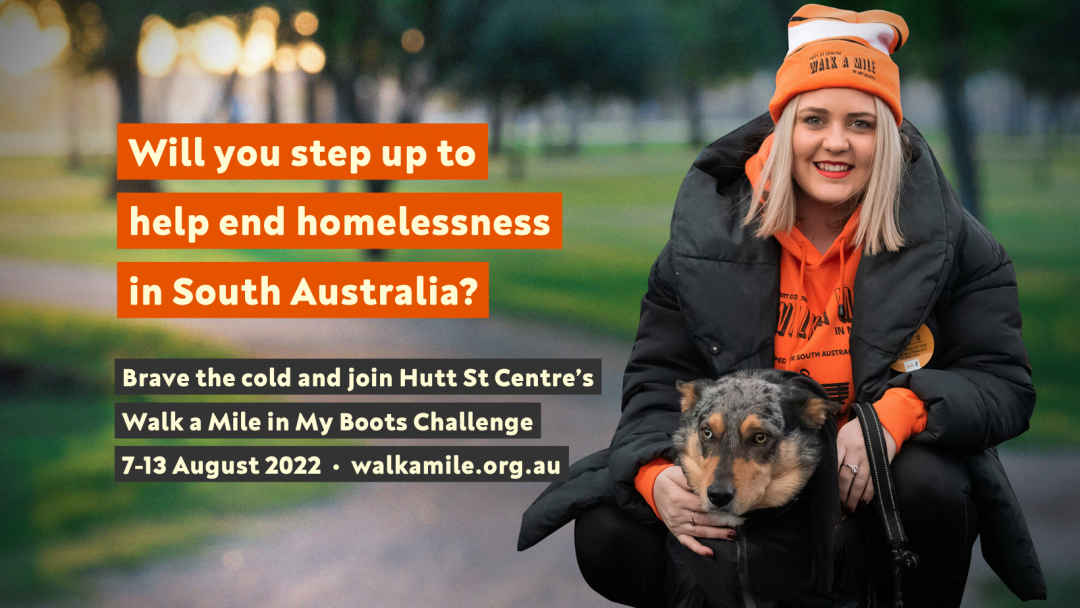 We know you care just as much as we do about helping people doing it tough in South Australia – that's why you're part of our awesome community of supporters!
Can we count on you to step up and take on the Walk a Mile in My Boots Challenge this August? Together, our goal is to help end homelessness for the more than 6,000 people in South Australia with no place to call home.
The Walk a Mile in My Boots Challenge allows you to:

Set your own goal – walk 1, 6, 10 miles or more!
Brave the cold, walking where and when you want during 7-13 August.
Raise vital funds for Hutt St Centre's work – helping people rebuild their lives.
Be part of a compassionate community united in our vision for a future without homelessness.
Your support can help provide essentials for people sleeping rough this winter, like nutritious meals, hot showers, laundry and locker facilities, and access to visiting medical and professional services. Helping people meet these urgent needs gives them the chance to change their circumstances for good.
What do you say – will you take the challenge and go the extra mile to help end homelessness in South Australia?
A very special thank you to our Supporting Partners, NOVA919, FIVEaa, 10 News First Adelaide, and CMI Toyota – their support makes the Walk a Mile in My Boots Challenge possible!