Welcome to our new Ambassador, Vicky Welgraven AM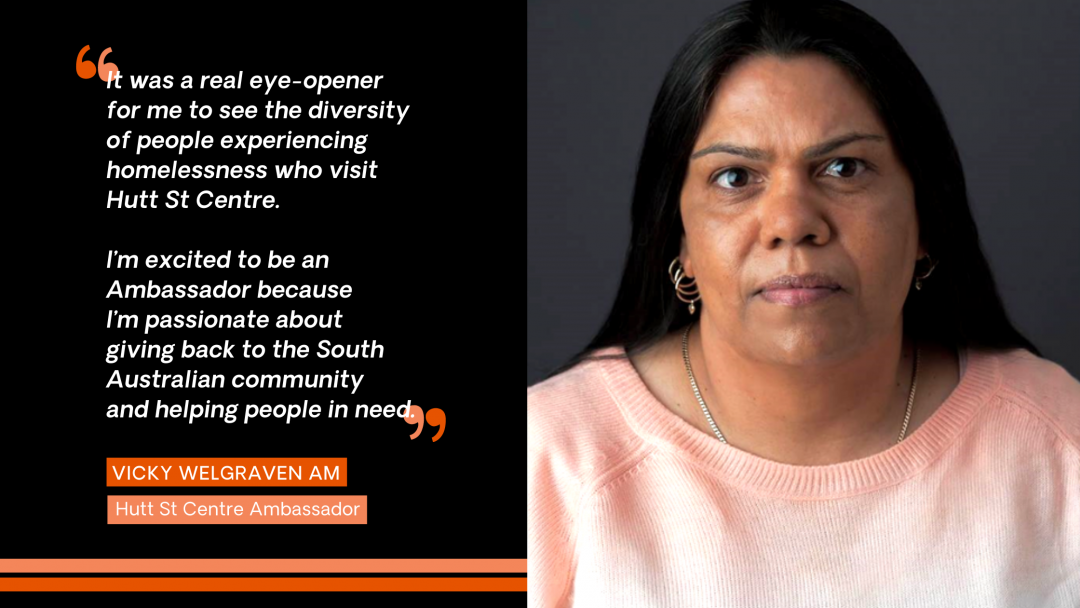 Congratulations to our newest Hutt St Centre Ambassador, Vicky Welgraven AM, on her recent appointment as a Member of the Order of Australia (AM). Vicky was recognised for her 'Significant Service to Women through Social Welfare Organisations, and to Indigenous Health'.
A proud Adnyamathanha woman from the Northern Flinders Ranges, Vicky has built an outstanding career as an advocate and champion for Aboriginal and Torres Strait Islander women, ensuring their interests are represented and their voices are heard.
Among her many accomplishments, she serves as a Director on the Our Watch Board where she promotes gender equality and respectful relationships, and advocates for an end to Family and Domestic Violence.
She has also been inducted into the South Australian Women's Honour Roll (2015); represented Aboriginal and Torres Strait Islander women at the United Nations Commission on the Status of Women (2016); and she was the first Aboriginal woman from South Australia to become an Australia Day Ambassador.
It is an immense privilege to welcome Vicky as a Hutt St Centre Ambassador. Her exceptional knowledge, experience and advocacy skills will help us make a life-changing difference for people experiencing homelessness in Adelaide, but especially for women and Aboriginal and Torres Strait Islander peoples.
In the past financial year, Hutt St Centre saw a 30% growth in the number of women aged 18-34 seeking support, as well as a 17% growth in the number of people identifying as Aboriginal or Torres Strait Islander. As the people walking through our doors become more diverse and their needs become increasingly complex, we look forward to working alongside Vicky to help rebuild their lives on the journey out of homelessness.
As part of her new role, Vicky recently spent a day here at Hutt St Centre, meeting our team, chatting with clients and helping to prepare and serve meals in our dining room.
"It was a real eye-opener for me to see the diversity of people experiencing homelessness who visit the Centre," Vicky said.

"I especially enjoyed my time helping in the kitchen and meeting the staff and volunteers who keep it all going."

"I'm excited to be an Ambassador for Hutt St Centre because I'm passionate about giving back to the South Australian community and helping people in need. Keep up the amazing work you all do at Hutt St Centre to help end homelessness!"
Thank you to Vicky for sharing our vision to end homelessness. Please join us in welcoming her to the Hutt St Centre community!