Will you walk a mile (or more) for Kial?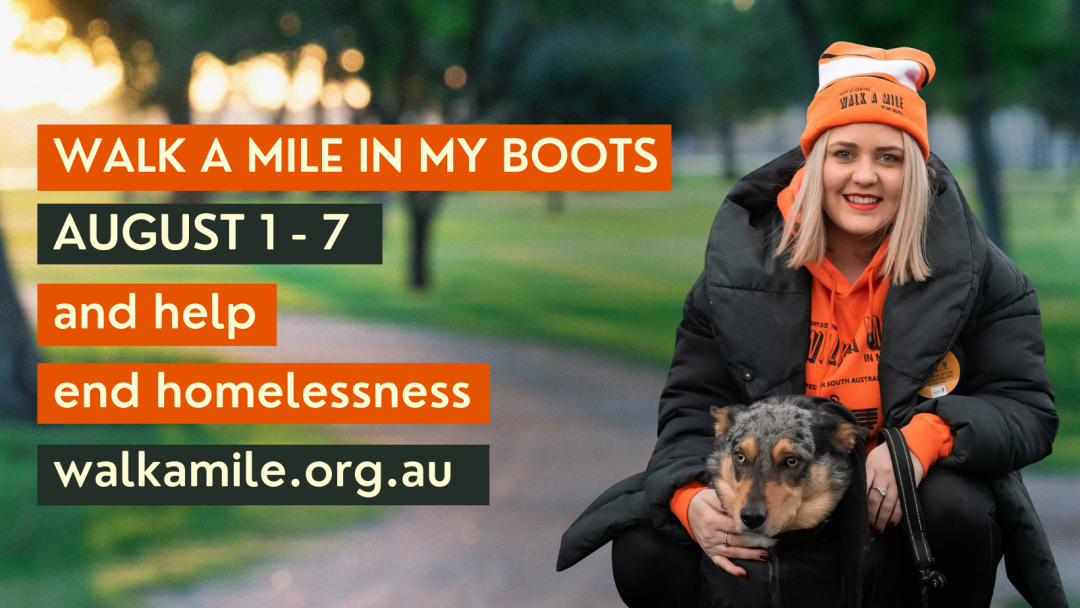 One of the best things about the Walk a Mile in My Boots Challenge is that, even though we are apart, we're together in our goal to end homelessness.
And it's not just South Aussies getting involved. We recently heard from first-time participant Kial who lives in Bathurst, NSW.
Kial has his own heartbreaking story of homelessness and wanted his fellow walkers to know just how much your support means. He told us:
"I joined the Walk a Mile in My Boots Challenge because I've been homeless from the age of 12 till I was 28 and I want to help others in the same shoes.

A number of things led to my homelessness – family breakdown, behaviour issues, in and out of the justice system and I couldn't stay at home as everything just started falling apart.

Life was up and down – sometimes it was good, sometimes it was very lonely and scary. You see stuff that people should not see, you become stuck in the wrong places at the wrong times. I went from sleeping on the streets and in garden beds to stairwells, cars, refuges, and jails.

It was cold. Sometimes I did not eat for days, I had to steal just to eat. Sometimes I felt so down and out from being on the streets I thought about dying.

But I set myself one goal at a time. Once I smashed that goal, I would set myself another one. I also used services that are there to help and started setting things up slowly. Finally, I got a place in 2014 and I've been off the streets since.

Now my goals are to keep working on my mental health, keep staying strong, doing the things I like and focus on work to keep moving forward.

I want to say thanks to everyone for participating in Walk a Mile, it means a lot to people who are homeless. People might feel they are alone, but we can come together as one to help end homelessness."
Thank you so much to Kial for sharing his experience with us. And thanks to you for joining Walk a Mile in My Boots this National Homelessness Week, 1 – 7 August.
For your safety and the wellbeing of our community, please remember to check www.covid-19.sa.gov.au or your local health guidelines before stepping out.
Please note:
If this story has affected you and you need someone to talk to, please reach out to:
Lifeline on 13 11 14
Suicide Call Back Service on 1300 659 467
Beyond Blue on 1300 22 46 36
Headspace on 1800 650 890