Your support makes all these services possible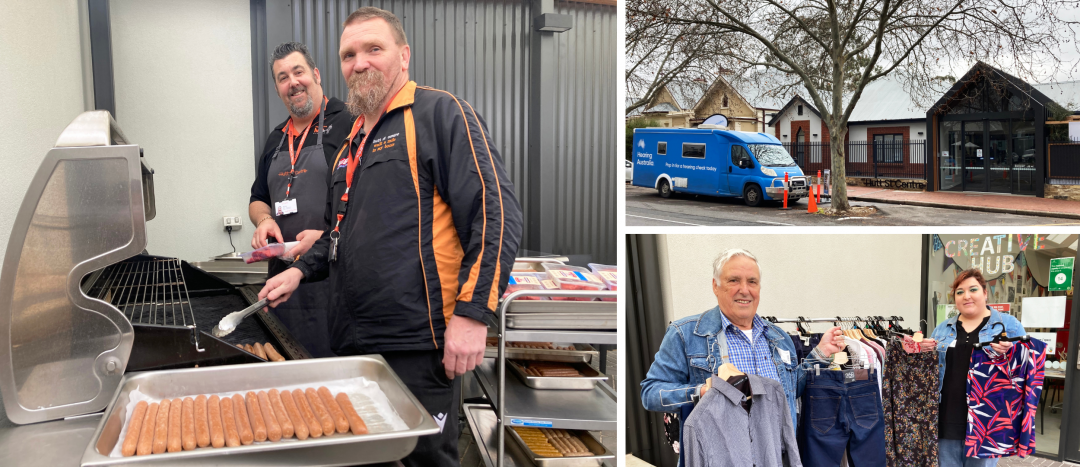 Despite the grey skies, it was a busy morning here at Hutt St Centre! Here's just a snapshot of what's been happening in our Wellbeing Centre today:
We held our monthly Town Hall Meeting, giving people at risk of or experiencing homelessness the chance to find out about what's happening in our community and have a say in the decisions that affect them.


Guest speakers from the Australian Bureau of Statistics came by to let people know about the 2021 National Census happening on Tuesday 10 August, ensuring everyone is represented regardless of where they live.


A team from the Electoral Commission of South Australia shared information about the upcoming State Election and how people without a fixed address can participate in the democratic process in a way that works for them.


The Hearing Australia bus stopped by to provide free hearing screenings for people at risk of or experiencing homelessness. They saw more than a dozen people and made several follow-up appointments for further hearing support.


The team from Thread Together hosted their monthly pop-up shop, providing brand new clothing at no charge to people who need it. Anglicare SA Volunteers, Amelia and Arlindo, helped between 20 and 30 people with free shirts, jumpers, pants and socks.


Chef Pete put on a delicious BBQ lunch and fresh salads, with help from our team member Wayne and our group of dedicated volunteers.
On top of all this, we provided our daily range of health and wellbeing services like the Royal District Nursing Service, our Pathways Support desk for help with ID and other important documents, plus showers, lockers, laundry facilities and more.
These services make a vital difference for people on their journey out of homelessness – and they would not be possible without your continued kindness. On behalf of our team here at Hutt St Centre, thank you!