Safety and hope thanks to our supporters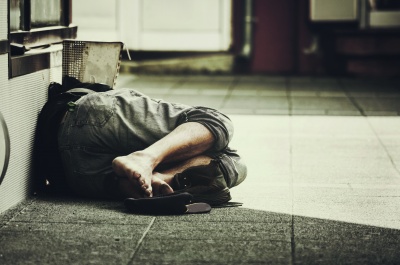 Many of you will be aware of Jason* who we wrote about in our 2019 Winter Appeal. He was one of the many people living on the street who was too afraid to close his eyes to sleep at night for fear of a violent attack, after an unprovoked assault left him with an acquired brain injury.
Unprotected and vulnerable, people who are homeless are constantly looking over their shoulder because the threat of violence is never far away.
We asked for your urgent help to get people like Jason off the streets before it's too late.
"Even when you are overcome by the desperate need to sleep, you never really sleep. You just exist." - Jason
We are excited to report that, thanks to your help, Jason is doing well. After getting back in touch with family members through Hutt St Centre, he was able to move in with them and get the extra support he needed to deal with the injuries he sustained from being attacked whilst sleeping on the streets.
He is now working at a local tyre company and enjoying getting back into his old trade. This has helped him start saving up some money and he is looking forward to eventually moving into a unit of his own and gaining a little more independence. None of this would have been possible without the generosity of people like you.
Your generous response to our 2019 Winter Appeal is having a positive impact. We can continue to provide a crucial first connection – a warm meal, a hot shower and compassion – before gently introducing options like health care and emergency housing to our ever-increasing number of clients.
*To protect his identity, the name of our client has been changed - all other details about his life and story are true