Coxy signing off after 25 years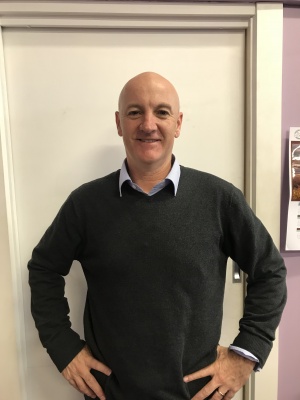 After 25 years with Hutt St Centre, the time has come for me to move on, and I will be leaving my role as CEO in mid-October.
Each and every day during my time at the Centre, I have heard people's heartbreaking stories about homelessness. For those experiencing it, homelessness can happen quickly and without warning. That's why services like Hutt St Centre remain so important.
Each morning when our Centre opens, there are many people in need of a meal, a hot shower, looking for help to secure accommodation, or access to training, education and employment opportunities – and some simply need someone to listen. Thanks to your generosity and kindness, our dedicated team of staff and volunteers are able to provide this greatly needed support.
We are so thankful that there are wonderful people like you who are ready to help those going through a tough time.
Working at Hutt St Centre has been the greatest privilege and honour in my professional life. Every day I have had the opportunity to live and breathe the values of the organisation, get to talk daily with the very people we are working with – they have inspired me to achieve the very best outcomes possible and I have witnessed so many people over my time here go on and achieve great things with their own lives. So many people have been able to exit homelessness here in Adelaide thanks to the support of people like you.
I feel confident leaving Hutt St Centre in the hands of our wonderful staff group, who continue to live the values of the organisation. I look forward to seeing Hutt St Centre continue to grow and develop through their input and expertise.
We are currently working on updating one of the most important services offered at Hutt St Centre – the locker facility. This is utilised every day by people who have nowhere else to store their most precious belongings, but it has some constraints in its current form. Hutt St Centre could really use your help to refresh these lockers to keep precious possessions safe.
To every single one of our supporters who has stood with us, walked with us and most importantly cared about homelessness, whether or not it directly affects them – thank you from the bottom of my heart. It has been a pleasure to get to know so many of you personally over the years.
Please enjoy reading the stories of people like Jason*, Fred*, Wendy*, Ralph* and Beverly*, whose lives you've helped change. They were all people who just needed someone like you who cared enough to help rebuild their lives.
Please know that thanks to your support, so many lives have been rebuilt through Hutt St Centre.
Again thank you from the bottom of my heart. It's been an honour and a privilege to work at Hutt St Centre.
Ian Cox
CEO, Hutt St Centre - signing off for the last time.