ProBono Australia Impact 25 Award nominations announced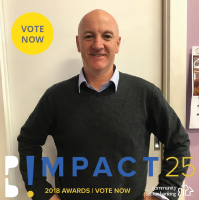 We are pleased to announce that our CEO, Ian Cox, has been nominated for ProBono Australia's 2018 Impact 25 awards! This represents his hard work toward creating positive impact in the Australian social sector.
To vote, please follow this link: http://ow.ly/WrQx30nnYin
Please note: voting closes 31 January.
Ian Cox has successfully led the growth of the programs and services for people experiencing homelessness in Adelaide over the last 15 years, after his career began as a social work placement for Hutt St Centre over 25 years ago.
Ian is an unflinching and resolute advocate for people experiencing homelessness, living out the values of the organisation on a daily basis in his leadership of 78 committed staff and over 450 regular volunteers.
Ian's leadership has ensured Hutt St Centre staff and volunteers are relentless in their efforts to support people into safe and secure housing, as well as connecting vulnerable adults with professional case management and essential support services offered at the centre.
He has initiated the establishment of the functional Zero project – in partnership with the Don Dunstan Foundation – to end street homelessness in Adelaide by 2020, and has attracted world leading experts to South Australia to review the work of the Centre, and sector.
As former Chair of Unity Housing Company, Ian was involved in the establishment and growth of the largest community housing provider in South Australia.
Ian's commitment to ending homelessness is unflagging and consistent, and he inspires all those who work with him.