Extreme Heat: Code Red response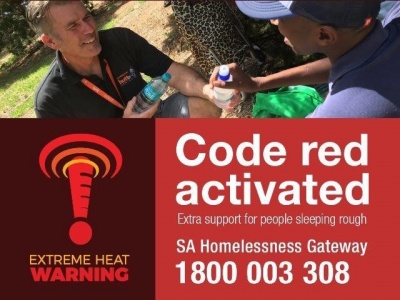 ***PLEASE SHARE TO REACH PEOPLE IN NEED OF ASSISTANCE DURING EXTREME HEAT***
The government has declared a Tier 2 Code Red for Wednesday 23 January (40 degrees) and Thursday 24 January (45 degrees).
In addition to the extended services listed below, Hutt St Centre will be operating extend hours to remain open until 5pm today and tomorrow.
The following services will extend their operating hours:
• Westcare (Baptist Care SA) 11/19 Millers Ct Adelaide, will extend their hours of operation and will be open overnight on Wednesday 23 and Thursday 24 January.
• Trace-A-Place (SYC) 135 Currie Street Adelaide, will extend their hours from 5pm to 7pm Wednesday 23 January to Thursday 24 January.
• Street to Home will be providing additional outreach services to people rough sleeping throughout this period.
If you would like to help during this critical time, please donate via our website to help us deliver essential care to rough sleepers and people facing homelessness: https://www.huttstcentre.org.au/donate
THANK YOU for your ongoing generosity that enables us to support some of our city's most vulnerable people.