Ruth's promise pays off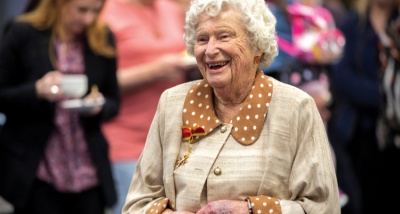 As enemy planes flew overhead strafing everything below, a young Ruth Kobylanski huddled with her sister and made a promise to God: If she survived the horror of this war she would "repay" Him in some way.
Her efforts to keep her promise were acknowledged recently when she was named a Dame of the Order of St Gregory the Great, in honour of her 61 years volunteering at the Hutt St Centre.
"I wasn't doing it (volunteering) because I had to do it – I was doing it because I enjoyed it," said Ruth, who will turn 91 later this month.
"Just to see them (the clients) come and thank you… and when my husband died it became my outing and I knew I could always go to Hutt St. They are like my extended family."
Read the full story here: https://thesoutherncross.org.au/features/2018/10/31/ruths-promise-pays-off/