Inspiring Achievers Awards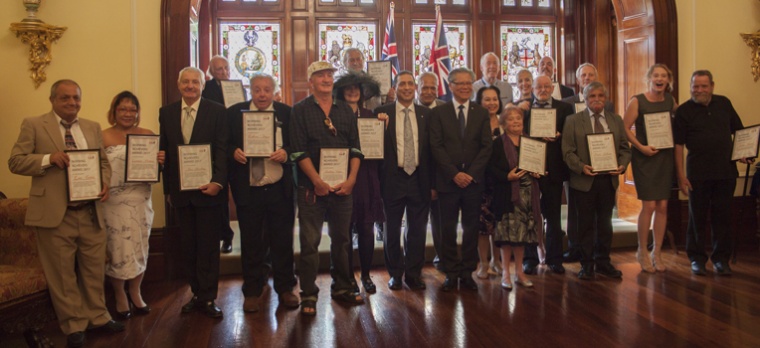 On Wednesday 15 February we had the pleasure of celebrating and recognising the accomplishments of some truly amazing people at our inaugural Inspiring Achievers Awards. It was an evening of immense pride and joy for all staff, volunteers and award recipients.
For many people coming through our doors the opportunity to be cheered on is not always present, and the lack of a support network can be incredibly debilitating. The obvious: having no one to help out if you get in a bind, no one to look after you if you fall sick. But the smaller ways matter too: no one to cheer you on when something good happens, no one to acknowledge small daily accomplishments. The Inspiring Achiever awards were designed to make sure people who come through our doors know that the Hutt St Centre team are always celebrating their achievements, and that an accomplishment of any size is worthy of recognition.
With wonderful hospitality from His Excellency the Honourable Hieu Van Le AO, Governor of South Australia, and Mrs Lan Le, everyone was made to feel extremely welcome within Government House (he didn't even mind one bit when a couple of people started tinkering on the piano!).
People who have faced significant challenges and hardship in their lives, well-beyond what most of us can easily comprehend, and who continue to push themselves forward are a source of pride and inspiration to us.
Hutt St Centre is a place where people are supported in their endeavours to transform and change their lives – thank you for your support in helping people to rebuild their lives. There are many wonderful achievements to share, we have shared a couple below.
Inspiring Achievers, The Walking Wombats
The Walking Wombats have been meeting and walking for fitness each Tuesday morning for nearly 10 years as part of the Heart Foundation's focus on health and wellbeing. Each of them inspire us with their commitment and effort to maintain good health and support each other through walking and friendship.
Inspiring Achiever and Walking Wombat member Robert (pictured) with Susie from the Aged City Living program.
Inspiring Achiever, Alecia
Alicia's unrivalled determination to change her life and reach her great potential has seen Alicia achieve a number of certificates and qualifications to find herself full time work in hospitality.