The Advertiser: "Adelaide's homeless and the side of Christmas most of us never see"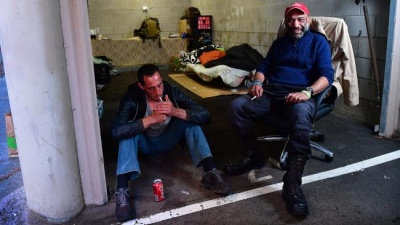 Our Development and Partnerships Manager, Danielle Bayard, featured in this article by The Advertiser's online news site, Adelaide Now. The article outlined many of the challenges people experiencing homelessness can face during the festive season.
The article can be found below or read on the Adelaide Now website.
Mark Arstall and A J Stewart in A J's carpark accommodation. Picture: Mark Brake
"JESSE Gunter doesn't know where he will have Christmas lunch or dinner this year. Option one is the Hutt St Centre for a "fantastic lunch" and dinner at other favourites, the Salvation Army or Westcare Baptist Care.
"Option" two will be in custody after a court hearing on charges of disorderly behaviour, refusing to give his name and address and resisting police.
"For the most part, I'll be alone but thinking about my family who I'm separated from, I'm disappointed to say,'' the 24-year-old says.
"I'm hoping I will be out (of custody) and able to spend time among the homeless community and friends.
"I'll be sleeping in a tent or in the Adelaide detox centre, where they might let me stay on compassionate grounds even though I don't have an addiction problem.
"Otherwise, it'll be Rymill Park or here in the South Parklands and, for a while, behind the Heart Foundation."
Unemployed construction worker AJ Stewart, 44, will spend Christmas Day at various charities.
"Beforehand, I'll spend about three days at St Luke's volunteering, doing decorations, wrapping presents and sorting them,'' he says.
"Christmas Eve, I'll be down at the Salvos for a meal and I'll come down to Hutt St and sleep out the front and have a shower when they open, then lunch at St Luke's Church and dinner at the Pilgrim Centre.
"Mainly, I'll be trying to avoid any memories of what I should be doing, which is with family.''
Mark Arstall, 38, will be alone as much as possible.
"I'll just keep to myself, as I generally do, and get some food together,'' he says.
The three men represent the face of the homeless in South Australia, people most of us rarely, if ever, see.
Their only evident problem is having lived on the edge for so long that they have inevitably dropped off.
Mark, AJ, and Jesse are relatively high-functioning, extremely mobile, well-organised and intelligent.
You wouldn't be able to tell them apart from many low-budget travellers on Adelaide streets.
They have efficiently self-contained backpacks, charge their mobile phones at libraries, eat and shower well at various charity outlets in the city and live in the parklands, squats or vacant sheltered areas.
This is the Adelaide homeless scene most people aren't familiar with.
The trio – and many like them – can only be recognised as down-and-outers when they gather with those we more often stereotype as homeless – the prematurely aged, jail-tattooed, the addicted, the shuffling, begging, shaking, hunched, or unkempt seen wandering the streets or in hospital emergency departments.
The lives of Jesse, Mark and AJ do not have the continuity of the homed. Mark, a forklift driver, sailed a six-metre yacht solo from New Zealand a year ago after a final failed attempt to reconcile with his sisters. He hasn't found steady work since.
AJ hasn't had a construction job in three years, and Jesse is estranged from his Adelaide Hills family and has only been out of jail for five months.
Community, rather than family, is at the heart of their homeless Christmas experience in Adelaide. That and the fact that various charities still struggle to honour Christ's birthday by feeding and caring for others.
"Your family is your community and we all congregate at meal times,'' Jesse explains.
"It's not an easy lifestyle, and it's a dangerous place, but I love the sense of community among the homeless people.
"It is very open-minded and we don't judge each other because we've all fallen through the cracks.
"We can't hide behind false bullshit so the friendship groups we make are very tight and they are good and honest relationships because there is nobody to impress.''
AJ says Adelaide is a better place to be homeless than most.
"The general community is quite supportive here and you won't get kicked out of squats like you do in larger cities when the police are called,'' he says.
"I have heard of people living behind shops and the owners were feeding them, putting security up and providing power.
"So, if you do the right thing, the community in Adelaide does help.''
The trio dub themselves the League of Homeless Gentlemen for the purposes of our photos and, while there is cheerful optimism, there is no sugar-coating as they explain their situations outside the closed Hutt St Centre, where a kindly woman puts on a modest Saturday breakfast for around 30 or so homeless and not-so-homeless freeloaders.
She began by bringing food to her homeless son – living where Hutt St meets the parklands – but soon others began turning up so she fed them as well, Mark says.
There are constant reminders of the fine line between Adelaide-style homelessness and utter destitution.
One man politely asks us not to photograph him because he doesn't want his family to know, another declines to be in our story because he is banking on police being too busy or disinterested to arrest him on an interstate warrant.
A woman also declines to be in a photo as she is "about to lose it". Soon after, she slaps the cheek of the person she has been waiting for which, despite landing like a thunderclap, barely raises an eyebrow.
Being homeless is a dangerous and transient life but it's hard to escape the fact, supported by data, that for some like the League of Homeless Gentlemen, homelessness in Adelaide is, at least in part, a seasonal lifestyle decision. The chief executive officer of St John's Youth Services, Wendy Malycha, said this Christmas, people should change their traditional perceptions of what it means to be homeless.
"Most people think of homelessness from the way it is depicted in the media and fundraising campaigns – bedraggled adults shuffling along the street, sleeping on benches or huddled in doorways, or women with battered faces with small children clinging to them,'' she says.
"Both the media and fundraisers use these images because they connect with their audience emotionally.
"This depiction of homelessness is not wrong, but it is an incomplete snapshot that misses the extent and impact of homelessness on us all.''
Ms Malycha said people needed to understand that with sudden changes in economic circumstances, many people could become homeless.
"Most of us are not that far away from one or two things changing in our life and we will be one of those individuals,'' she said.
"At an individual level, the financial pincers are slowly closing on all of us. Just consider this: How many pay days would it take before you and the people you know would run out of cash? How long before credit cards would be maxed out? How many pay days before being unable to pay your rent, or defaulting on your mortgage?''
AJ is a living example of the point.
"I was doing lots of construction jobs and then there was nothing and I had enough money to last only three or six months,'' he says.
Last month the nation's Rental Affordability Index for the June quarter, produced by National Shelter, showed Adelaide recorded an average rental spend of 27 per cent of total income. The official measure of rental stress is only three percentage points above that average.
Adelaide and South Australia continues to give generously, says Hutt St Centre development and partnerships manager Danielle Bayard.
"We sent out our Christmas campaign a few weeks ago and have been relatively heartened by the response we have had so far,'' she said.
"There are also a good number of corporate groups and individuals who have inquired about how they can help and advised that they are using our Christmas wishlist to gather donations for us this year, which is great for us and our clients.''
A quarter of a million people need help
AUSTRALIANS are using homelessness services in record numbers, and the proportion of people seeking support due to domestic and family violence has also risen sharply, a report by the Australian Institute of Health and Welfare has shown.
It found the overall number of people accessing services was more than 279,000 in 2015-16, up from nearly 256,000 the previous year.
A total of 106,000 of those sought help due to domestic and family violence. That is an increase of 14 per cent on the previous year.
AIHW spokeswoman Anna Ritson said while the figures were concerning, they could be attributed to the availability of services and increased awareness.
"I think it's important to note that while the proportion is increasing, it's actually not representative of an increase to the level of homelessness, nor to the levels of family and domestic violence," she said.
"I think what that indicates is that whenever you raise awareness of an issue, particularly issues around family and domestic violence, what we find is, across the board and not just limited to homelessness services, that these clients are more willing to seek assistance in those circumstances."
Aboriginal people continued to be over-represented overall, with one in four of those seeking assistance identifying as indigenous. Housing affordability and financial difficulties were identified as the reason 60 per cent of people sought help.
A Christmas lifeline
THIS Christmas, you can help homeless people connect with vital support services.
For many South Australians sleeping rough – including men escaping their past, women fleeing domestic violence and young people struggling to make ends meet, their phone is a lifeline.
But living on the street, or in a refuge or shelter, can make it tough to keep phones charged.
For $15, you can give someone in need an Ask Izzy power card, which will allow them to charge their phone for four hours.
Ask Izzy is a world-first mobile phone app that connects users with agencies providing help with housing, food, legal advice, employment and health services.
For more information visit facebook.com.au/askizzyau
To donate an Ask Izzy power card, visit westpac. com.au/askizzy"