The Advertiser: "Christmas revellers urged to check on vulnerable neighbours in South Australia"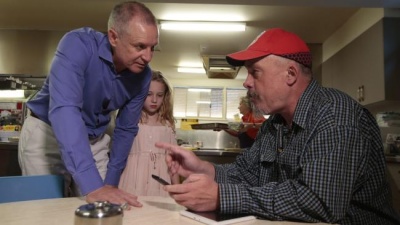 Did you see Hutt St Centre mentioned by The Advertiser's online news site, Adelaide Now? The article outlined the dangers of high temperatures, and urged the community to be aware of those who could be significantly impacted by the severe weather. Hutt St Centre stayed open Christmas day and night, allowing people sleeping rough to escape the dangerous heat.
The Article can be found below or read on the Adelaide Now website.
"CHRISTMAS Day revellers are being urged to check on vulnerable neighbours as temperatures reach 40C in Adelaide.
Premier Jay Weatherill and daughter Alice, 10, spent the morning at Hutt St Centre, where volunteers were serving up a breakfast to those less fortunate in the community.
The homeless shelter, as well as others across Adelaide, will remain open all day today to provide refuge from the heat.
"It's going to be very hot today so it's' important to look in on ... elderly neighbours (and) especially people who might be by themselves and make sure that they're being looked after," he said.
Mr Weatherill also urged everyone to take care on the roads.
"Wouldn't it be wonderful if over the next few days there were no more deaths on our roads; no more serious injuries," he said.
"So just take a little bit of time when you're travelling around the state to just take that extra bit of care so that we can keep that road toll down."
Premier Jay Weatherill with his daughter Alice, 10, at the Hutt St Centre with Anthony Ashton. Pic: Tait Schmall.
Hutt St Centre spokeswoman Danielle Bayard said the centre expected about 160 people to come through its doors for Christmas lunch.
"For the people that come here, many of them don't have families, they don't have other places to go and many of them can't afford to have the Christmas that we'd all hope people could have," she said.
"So for them to be able to come here and have Christmas with people that they trust, that they know and have a sense of community and all the food with all the trimmings is brilliant."
Hutt St Centre client Anthony Ashton, 42, said the centre provided an "opportunity for togetherness and belonging".
"I'm grateful for the volunteers who provide the service, not just for today but for the whole year," he said.
Bishop Tim Harris, from St Peter's Cathedral in North Adelaide, said he was spreading a message of hope on Christmas with the theme "light in the darkness".
He said the foiled Melbourne terror plot, in which it is alleged suicide bombers planned to detonate bombs in the city CBD on Christmas Day, may be front of mind but would unlikely deter people from going about their business.
"I suspect the spirit in our community is stronger than that and it gives a renewed determination to come out and to say we will not be coward, we will not be fearful and we will take (our) place in our various iconic events whether they be religious observances, or going to the sport or gathering in our city centres," he said."