walk a mile in my boots 2016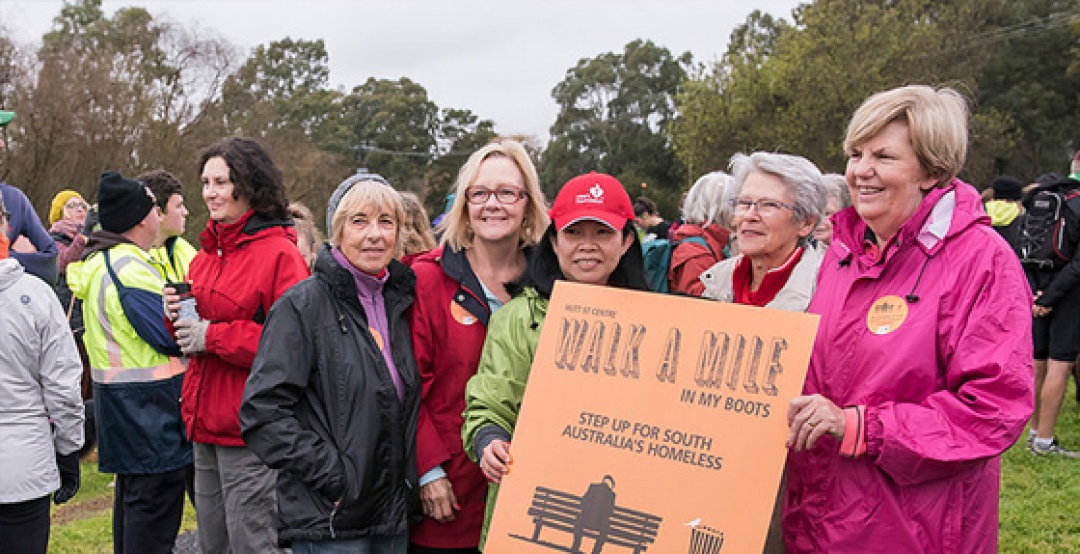 We once again had the pleasure of seeing so many of you and the broader Adelaide community at walk a mile in my boots. By coming out to brave a 4 degree, chilly August morning, you said to people experiencing homelessness, "you are not alone - I will walk with you". It was truly heart-warming to see nearly 3,000 people walking in Adelaide, over 250 walking in McLaren Vale, and another 4,000+ students walking at their school.

From the start at Victoria Park and along Hutt St into the south parklands, people wandered along
chatting and carrying messages about Hutt St Centre and homelessness. As walkers passed the centre, our very own Hutt St Centre our band The Outsiders gave a rousing performance.
The fundraising effort was phenomenal, and while the final count is still in progress, we're pleased to see our online fundraising alone has reached $100,000! A special mention to the Willunga Wanderers who raised over $50,000 from fundraising for their long walk from Willunga to Adelaide and their dance a mile event a few weeks prior!
Your participation as a walker or a sponsor of walk a mile in my boots helps to keep our Day Centre doors open. This the first port of call for those in need of a meal, a hot shower, clean clothes or a
friendly, caring person to talk to. The Day Centre provides the basics that many of us take for granted, and ensures that anyone can find comfort and respect in a space free from judgement.
To keep up to date on walk a mile in my boots news, fundraising totals, or to view the picture gallery from the Adelaide and Mclaren Vale Walks.
If you were thinking of donating but didn't get the chance, you can do so online here or by calling us on (08) 8418 2500.