Riley Builds a New Future, Thanks to Your Kindness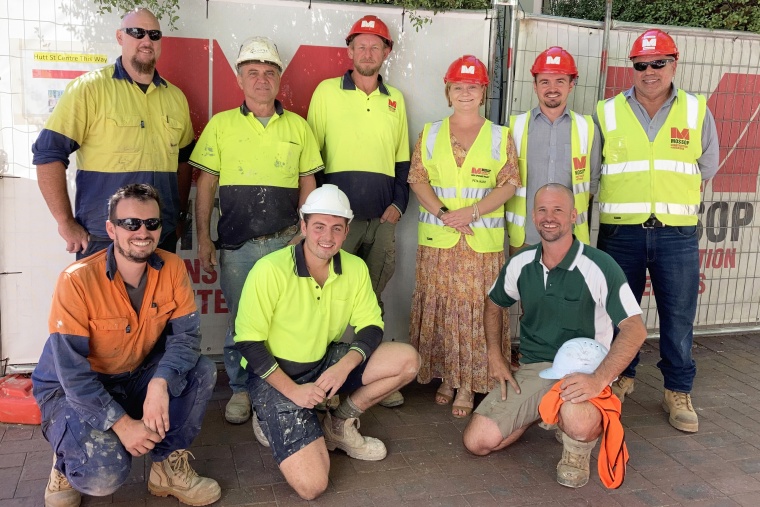 When Riley* came to Hutt St Centre, he did not know which way to turn, but with help from generous people like you, he is now heading in the right direction.
So many people walk into Hutt St Centre with exceptional skills to offer but after experiencing homelessness, they often lack the confidence to look and prepare for employment opportunities.
With the right support and gentle encouragement, people like Riley are discovering new careers, new confidence, independence and homefulness.
Riley's case manager, Matilda* recognised that his skills would be well suited to the construction industry. So when she heard about a chance to work with Mossop Construction on Hutt St Centre's refurbishment, she immediately knew Riley would be a top candidate.
"He's passionate about giving back to Hutt St Centre and he's so motivated to change his life. This was just the perfect opportunity," said Matilda.
Cheered on by Matilda, Riley worked hard to earn himself a permanent full-time position with Mossop, contributing to the future of the very place that gave him this fresh start.
"I was pretty excited to hear I'd got the job! Think I went into shock," said Riley.
"After a lot of bad luck over the last few years, I just couldn't believe this good thing was happening to me."
Working on the Hutt St Centre refurbishment has also given Riley the chance to make a difference for other people experiencing homelessness. He often stays after his shift onsite ends to help around the Centre and chat with other people.
"Hutt St Centre's been great; my case manager's so supportive, always there to help me. And Mossop made me feel very welcome, I feel like I've joined a family."
With your kindness, doors are opening for people like Riley.

Thank you!
Click here to keep reading this edition of The Word from the Street
*Names have been changed to protect the identity of people who have kindly allowed us to share their experience of homelessness