CEO Update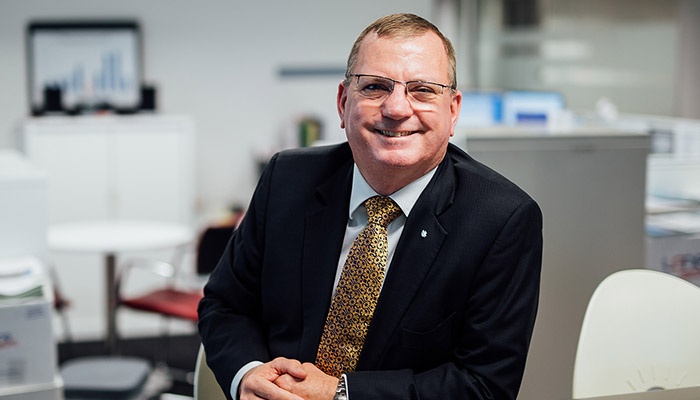 I was humbled to be appointed as the CEO of Hutt St Centre at the beginning of this year. I felt honoured to be joining an incredible organisation dedicated to helping people rebuild their lives.
One of the many things I have learnt during my brief tenure is that it only takes one moment in time for a person's life to be devastated by homelessness. I have seen first-hand the devastating impact that 'one moment' in a person's life can have on their overall wellbeing.
That's why I am so incredibly grateful for your support. Thanks to your kind heart, Hutt St Centre is here to support people at risk of, or experiencing homelessness to rebuild their lives on their pathway to a suitable home.
In this issue of The Word on the Street, I am excited to share many diverse stories, once again reminding us that homelessness can happen to anyone – but with support from generous people like you, people experiencing homelessness can access the services and support they need to help rebuild their lives.
People like Phil*, who you may remember from our Winter Appeal. He struggled to form trusting relationships as he had experienced childhood trauma. This led to a difficult marriage break up, leaving behind his three children and Phil was reduced to sleeping on the street.
Today, Phil has a place he calls home, a fulfilling new job, and a renewed loving relationship with his children.
James*, a self-employed construction worker who, due to a downturn in the industry, was unable to financially support Steven*, his 17-year-old son with special needs. James ended up separated from Steven and was sleeping rough in his car.
After reaching out to Hutt St Centre, James and his son Steven are back together, with a home of their own and a bright future that would not have been possible without the generosity of Hutt St Centre supporters.
Bob*, a softly spoken man in his 70s who had significantly impaired mobility and was no longer able to care for himself; he was living on the streets and asking passers-by to help him get up from the cold, hard ground each morning.
After struggling alone for so long, Bob is now living happily in an aged care facility, receiving the high quality residential care he so desperately needed.
People often arrive at Hutt St Centre with few possessions. We see people like Emma*, who had nothing but the belongings in the car she'd been living in, when she arrived in desperate need of medical attention, shelter and food.
Emma's story is one of the most heartbreaking, yet inspiring, stories I have heard recently. She arrived at Hutt St Centre after escaping a violent domestic relationship of 10 years. She had been living and hiding in her car for several months.
Emma had employment in the health industry, but due to pressure from her husband, left her job to work in his business. As his behaviour worsened, Emma became more frightened and trapped – afraid to leave him for fear he would hurt her.
Can you imagine how desperate Emma must have been, to finally make her escape out of a small bathroom window knowing she had nowhere to go?
Her brave departure, while traumatic, has led to a whole new start for Emma. With the help of her case worker and you, Emma now has a new job, a roof over her head and with the delivery of a Home Starter Pack, a place she calls home.
The Home Starter Pack truly helps turn a house into a home. Emma received all the essentials she needed to make her new space comfortable and practical – items many of us take for granted such as a bed, sheets, blankets, towels, fridge and basic cooking utensils.
Emma is one of up to 30 people in need of a Home Starter Pack, each month. That's almost one person each and every day in desperate need of the basic essentials to start turning their house into their home. Each person's needs are different, and we customise their pack accordingly.
Did you know that with every $1,023, Hutt St Centre can turn an empty house into a home?
Your kind donation will make sure a person coming out of homelessness, like Emma, has the basic essentials to provide comfort, and turn a house into a home.
I know you understand that homelessness is not just the lack of shelter. It is also about what else is missing in life; safety, independence and the 'little things' that help people settle in and sustain a new home. And with your help, we can help more people like Emma feel comfortable in their new home.
Once again, thank you for all that you do to help South Australians in need.
Yours sincerely,
Chris Burns CSC
Chief Executive Officer
With you by our side, I look forward to working together to advocate with and empower people at risk of, or experiencing homelessness, to rebuild their lives on their pathway to a suitable home.

Your kind donation will make sure a person coming out of homelessness, like Emma, has the basic essentials to provide comfort, and turn a house into a home.
Click here to continue reading The Word from the Street
*Names & images have been changed to protect the identity of people who have kindly allowed us to share their experience of homelessness