A new start for Wendy, thanks to YOU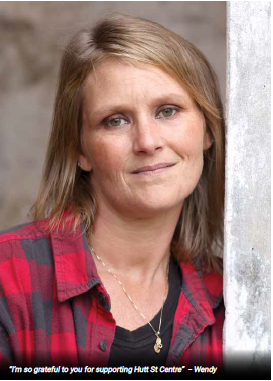 From a place of fear, grief and sadness, surviving in a cheap motel with no job, no family and no permanent home, Wendy has completely turned her life around - all thanks to your support.
Several years ago, Wendy* made the brave decision to escape a bad relationship and family tragedy and come to the city for a fresh start.
Trapped in a long-term relationship with a partner who was becoming increasingly aggressive, Wendy had also lost several family members in a short period of time. Her brother, her dad and her Nan all passed away within a few years of each other. Her support network was breaking down around her and Wendy began self-harming as a way of coping with her situation.
Wendy knew she needed to get away and, although she didn't have a home to go to in Adelaide, it was still better than life as it was, so she took the risk and left.
At first, she managed to scrape together $43 a night to stay in the cheapest motel she could find. This did not leave much in her pension for everyday expenses such as food and transport and she didn't know how she was ever going to make ends meet.
Wendy was referred to Hutt St Centre for support and advice around how to change her life and move into secure housing and employment. She was quickly connected with a housing provider and able to sign the lease on a unit of her own in the
outer suburbs of Adelaide late last year.
"My case worker helped me move and get set up here. I was so grateful. It would have taken me months to figure out how to do everything on my own. Just having a place of my own; having my own kitchen… but knowing I can reach out if I need help with anything - it's so good. They've also helped me with my budgeting - I have $93 in my bank account now!"
Wendy's case worker arranged additional services to support her in her new home such as one-on-one sessions with a nutritionist in her new kitchen, teaching her to make healthy meals without spending too much money and having someone pop over to help establish grocery shopping and cleaning routines in her new house.
"I got help to find the confidence and self-esteem I needed, and it motivated me to want something more for myself and my life and make some goals."
Thanks to her case worker who discovered her interest in soccer, Wendy now regularly plays for a team. She also earns a little extra money selling The Big Issue on the streets of Adelaide six days a week.
"Often it's the people who can't really afford to be buying magazines who give me $5 tips," she said.
"Hutt St relies on donations and goodwill. I'm so grateful to you for supporting Hutt St Centre in any way, because you changed my life and I'm so happy. Thank you."
*To protect her identity, the name of our client has been changed - all other details about her life and story are true.