From little things, big things grow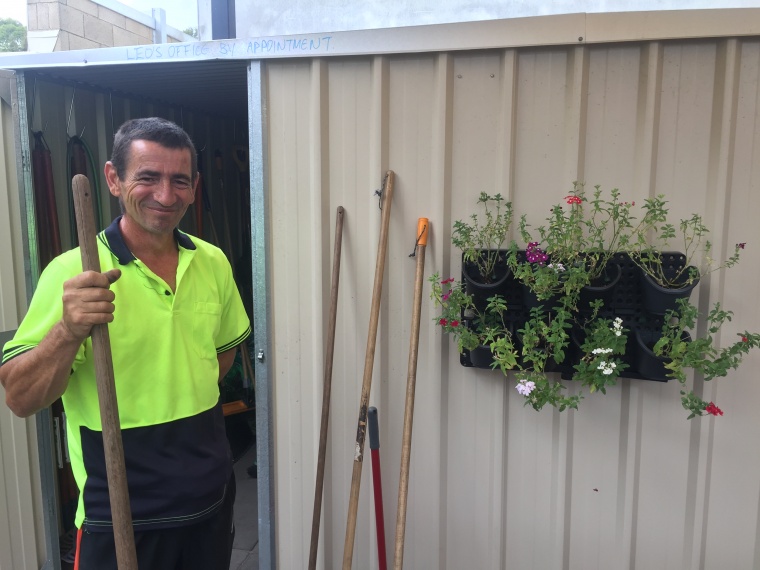 The self-named 'Gang Greens', a group of eager gardeners who aren't afraid to get their hands dirty, meet at Hutt St Centre every Friday morning with one mission; to keep Hutt Street looking beautiful.

The group heads down Hutt Street—tools in hand—to sweep up leaves, pick up rubbish, and tend to the street's planter boxes and garden beds. Once their hard work is done, they sit down and enjoy a coffee and chat at a local Hutt Street cafe.

The initiative, supported by our donor funded Pathways to Education and Employment program, aims to give participants new skills, build self-confidence, and create a deeper sense of community.

Working as a team, participants have developed positive relationships with local business owners, built lasting friendships, and feel proud of their contribution.

One of the participants, Johnny*, has been supported to complete his White Card certification, required for construction work.

We are thrilled to share that Johnny has now gained casual work in event construction, and is taking steps to complete his forklift licence training to further expand his employment opportunities.

Only with the generosity of our supporters like you, are we able to provide these valuable experiences, and professional training that can lead to life-changing employment for our participants.

Thank you for your ongoing support to people who are homeless or disadvantaged.

With growing interest (no pun intended), we are planning to run this activity two times a week to meet the increasing demand.
With your generosity, we can continue to run programs like this to help people get back on their feet, and turn their lives around.
Back to Word from The Street, Autumn 2018
*Names have been changed to protect the identity of people who have kindly allowed us to share their story.