Changing lives, one cup at a time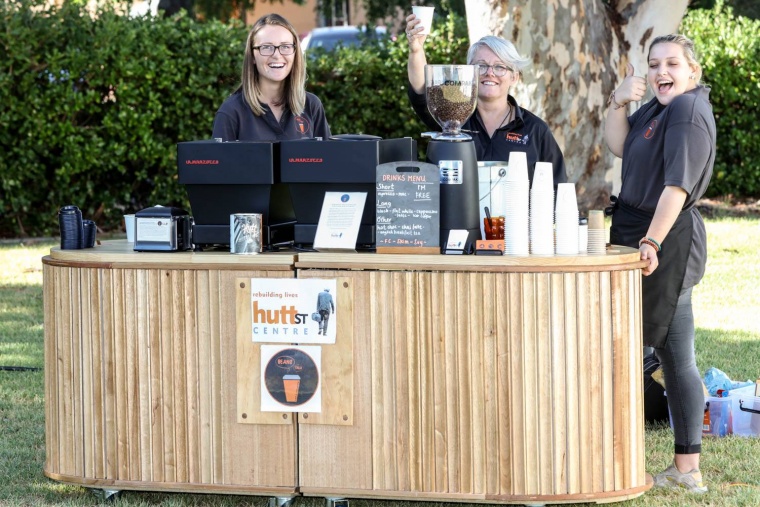 Our Beans Talk Coffee Cart provides valuable training and work experience opportunities helping our clients to become job ready. Program participants not only gain practical hospitality experience, but many say they have also developed a sense of community inclusion and gained confidence, leaving them feeling eager to seek ongoing employment.
Over a year, 34 people completed the program. Following their training, 26 people successfully gained job interviews, with 18 people securing paid work. One of our new Beans Talk baristas, Elisa*, shares her experience of the training program:
What were you doing before you started the Beans Talk Training Program?
I was couch surfing and trying to pass my year 11. I was failing, and it felt awful.
I felt like I was never going to get educated because I kept failing.
How were you feeling in the lead up to starting the program?
Super nervous, excited, and unsure of what to expect. After I spoke to the program coordinator, I started to feel more motivated, and I was confident this was something I'd be able to do.
"I feel so awesome. This program came at such a good time for me. It felt so good to do something to build my confidence, to try new things and believe in myself."
What did you like most about the program?
The opportunity to participate, and meet new people. I liked that it felt like a space to learn without any constraints, and there was no pressure. I was happy to be doing something and not worrying about passing or failing, I was just there to learn.
Has Beans Talk influenced what you are doing now?
Beans Talk was the initial step that got the ball rolling for me, it was my starting point to do something. I met so many beautiful people and am very thankful for this opportunity.
What has changed for you since completing the program?
Everything has changed. I'm now more confident and I'm doing things, getting work, and feeling really great – it's awesome. I thought I would just learn to make coffee but now I want to make coffee, and want to share it with other people, to show off what I can do.
Thanks to Beans Talk, and Elisa's new found passion for her work, there's little doubt she's got a bright future ahead.
The Beans Talk Coffee Cart was originally made possible through a Fund My Community 2017 grant - where our supporters voted for us by the thousands!
Thank you.
Given how positive this training initiative has been, we have maintained the program after the grant funds ended. This has only been possible thanks to people like you. Your ongoing support enables us to be brave and continue to provide the best opportunities for people to change their life.
For more information on Beans Talk, or to book the Beans Talk Coffee Cart for your next event, contact Olivia on OliviaB@huttstcentre.org.au or call 0420 998 481.
Follow Beans Talk on Instagram @beanstalk_adl for latest events and functions where you can grab your coffee with a conscience.
Back to News from The Street, Autumn 2018
*Names have been changed to protect the identity of people who have kindly allowed us to share their story.