Restoring hope with JusticeNet's free legal service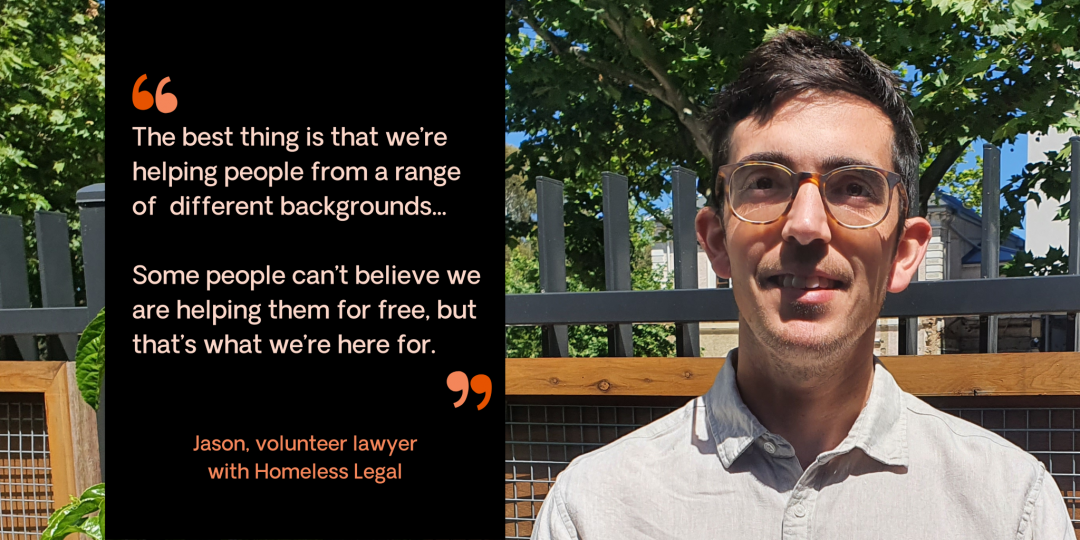 Meet Jason. He's a lawyer volunteering with JusticeNet SA's Homeless Legal service, providing independent legal advice and advocacy for people experiencing homelessness in Adelaide.
Volunteers from JusticeNet are onsite weekly here at Hutt St Centre to support people with a range of legal issues – from wills, fines and civil disputes to more serious matters like domestic and family violence.
Jason says he loves the role because no day is the same. That's why he's been volunteering for the past nine years.
"It's completely different to my corporate day job, but my firm is very supportive," he says. "All our Associates have the opportunity to participate in the program."
"The best thing for me is that we're helping people from a range of different backgrounds.

It can be challenging because not everyone has access to all the documents or evidence they need to build their case, so empathy is essential.

But it's great to be able to help someone just by drafting a letter or renewing their busking license."
"We get a lot of positive feedback from the people we support… Some people can't believe we are helping them for free, but that's what we're here for."
Hutt St Centre team member, Paul, says JusticeNet provides a vital service for people doing it tough.
"Just today, they helped a man who's been in a dispute with his former housemate over money," Paul says.
"He was so grateful to have someone sit down with him and listen to his side of the story. They gave him advice and he left happy and hopeful that his issue might be resolved. That makes a big difference, to give someone hope for the future."
Thank you to the dedicated team at JusticeNet, and especially volunteers like Jason who devote their skills and time to helping people rebuild their lives. The Homeless Legal service operates with the support of MinterEllison.
Thanks also to our generous community of supporters. Your kindness ensures our doors remain open to people when they need us most.

L-R: Volunteer lawyer Jason, Managing Solicitor Zoe, and JusticeNet SA CEO Rebecca at Hutt St Centre, where people experiencing homelessness can connect with services like JusticeNet.